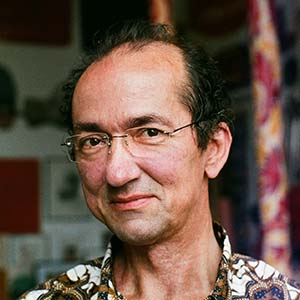 Foto: Peter Putz
Born 1960 in Linz, Upper Austria
1979-83 studied psychology and educational theory at the universities in Innsbruck and Salzburg
1989-94 studied painting and animation film at the Academy of Applied Arts / Vienna.
1994 Diploma film "Rhythm 94"
Since the age of sixteen work in the areas of music, painting, film, installation and performance. Numerous personal experimental and animated films and some commercials.
Since the year 2000 producer of animated films for artists like e.g. for Sabine Groschup, Heimo Wallner, Nicolas Mahler, Linda Wolfsgruber, Federica Pagnucco, Christoph Abbrederis or Heinz Wolf.
Since 1992 animation workshops and seminars with children, youngsters & adults. After a one year lectureship for animation at the Arts University in Linz (2002) regular animation lectures / seminars as leader of animation studios at the Vienna Art School (since 2003) and the Academy of Fine Arts in Vienna (since 2004).
Several research projects about the history of animation in Austria since 1998. Last publication: "Die Kunst des Einzelbilds – Animation in Österreich 1832 bis heute" ("The Art of Single Frame – Animation in Austria from 1832 until today") published by Film Archive Austria, 2010, together with Sabine Groschup, Mara Mattuschka and Christian Dewald.
Curator: ANIMATION AVANTGARDE programmes at Vienna Independent Shorts Filmfestival since 2009.
ONE DAY ANIMATION FESTIVAL in Vienna since 2005
Numerous Austrian programmes for international festivals (such as: Hiroshima, Zagreb, Cinanima, Anifest (CZ), Balkanima, etc.) and international programmes for Vienna. Selection and prize jury member at numerous international animation film festivals.
Filmography
1980 Atemnot
1981 Kobbla Mamfred
1982 Sie haben 15 Sekunden Zeit, etwas besonders Wichtiges zu sagen
1983 Die Begrenzungslinien der Projektionsfläche
1984 Il carnevale
1986 Sehnsucht: Wildnis (Desire: Wilderness)
1985 Warten Sie auf etwas Besonderes ?
1987 Filmplastik
1987 Das Fenster
1988 Der Dialog
1989 Haus / Frau
1989 Shark in the City
1989 Ein Schlag zuviel
1989 Struktur / Auflösung
1990 Würfel
1991 Bunt
1992 Lonely Cowboy in 1992
1994 Rhythmus 94
1996 Picnic in the green
1997 Hiroshima.August.92
1997 Zeit Raum (Time Space)
1998 SC01 – Belo Horizonte.April.97
1998 Sophia's Year
2004 Plato & Tao (artist portrait of Helene Avramidis and Chen Xi)
2007 Rosenmädchen Seelenclown (portrait of Gerlinde Zickler)
2012 Sunny Afternoon
2014 l'alfabeto delle cose piccole (collaboration with Linda Wolfsgruber, Federica Pagnucco and Peter Rosmanith)
2016 Fuck the Cancer!