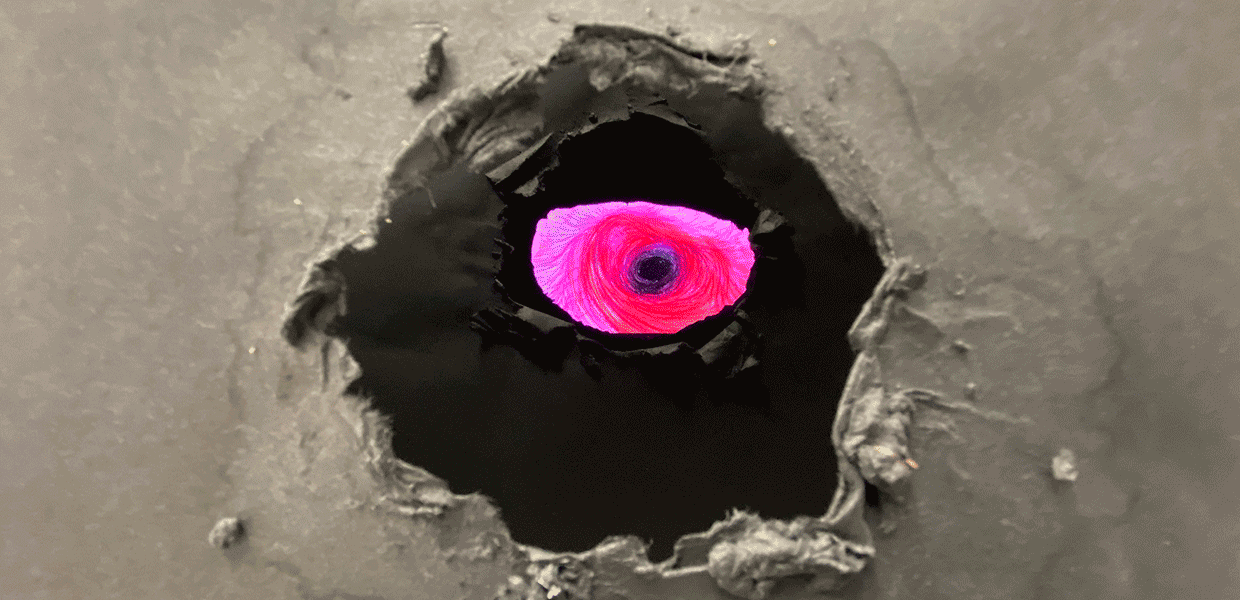 Der ASIFAKEIL als riesige Peepshow, mit Blick auf eine abstrakte Animation, eine intuitive Reise durch den weiblichen Körper.
Der Film wurde mit Ölkreiden, Terpentin, Milch, Tinte, Reinigungsmittel, Lippenstift und Granatapfelkernen unter Lockdownbedingungen, hergestellt, mittels  Handzeichnungen, Fingern, After Effects und einer mikroskopischen Kamera.
Birgitta Hosea ist bei der Eröffnung persönlich anwesend und spricht am 02.12.2021 beim Festival Under-the-Radar in Wien.
The ASIFAKEIL is turned into a giant peepshow inside which can be glimpsed abstract animation that hints at a visceral journey through the female body. The film was made with oil pastels, white spirit, milk, ink, washing up liquid, lipstick and pomegranates using hand drawing, fingers, After Effects and a microscopic camera during conditions of lockdown.
Birgitta Hosea will be present at the opening of her show and hold a talk at the Under-the-Radar festival on Dec. 2nd in Vienna.
Birgitta Hosea is a time-based media artist working with experimental drawing, performance and expanded animation to create durational images, live events, experiential installations and short films that expand the concept of the moving image out of the screen and into the present moment. Recent exhibitions include National Gallery X; Venice & Karachi Biennales; Oaxaca & Chengdu Museums of Contemporary Art; Centre for Recent Drawing, London and Hanmi Gallery, Seoul. Included in the Tate Britain and Centre d'Arte Contemporain archives, she has received an Adobe Impact Award, a MAMA Award for Holographic Arts and an honorary fellowship of the Royal Society of the Arts. Currently Professor of Moving Image at the University for the Creative Arts, Farnham, she was previously Head of Animation at the Royal College of Art and prior to that at Central Saint Martins, where she completed a practice-based PhD in animation as a form of performance. She has written a number of publications on performance drawing and experimental animation.
This exhibition is supported by University for the Creative Arts. Sound design by Anat Ben-David. Thanks to Vicky Smith, Holger Lang and Stefan Stratil.