Evelyn Kreinecker – WEGSTÜCKE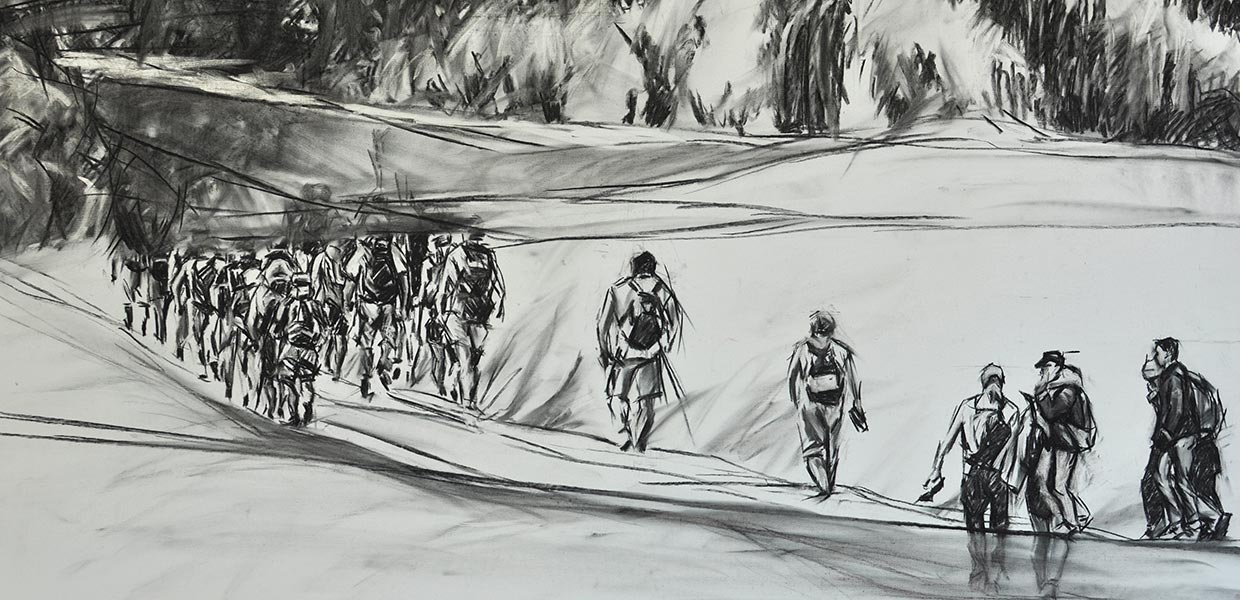 Menschen gehen Wege. Alltägliche, Notgedrungene, Beglückende oder auch Ungewisse. Gezeichnet mit Kohle auf Leinwand entstehen Wegstücke. Diese Momentaufnahmen verändern und überlagern sich, erzählen Geschichten, hinterlassen Spuren und stellen Fragen: Wohin können wir gehen, dürfen wir gehen, müssen wir gehen?
Ausgehend vom Film Wegstücke breitet sich Gezeichnetes fragmentarisch aus und öffnet einen Reflexionsraum für eigene Verortungen und Wegerfahrungen.
Filmstill: Wegstücke, Animationfilm by E. Kreinecker,
5 min, 2017, Music by N. Trawöger
People are walking along their ways – day by day, enforced, contented or uncertain. Drawn with charcoal on a piece of canvas, lanes are created. Those snapshots are changing and overlapping, telling stories, leaving traces and putting questions: Where should we go, may we go and must we go?
Based on the film Wegstücke, a drawing spreads out fragmentarily and opens up a space for reflection on one's own localizations and experiences of ways.