Veronika Schubert: MINDSET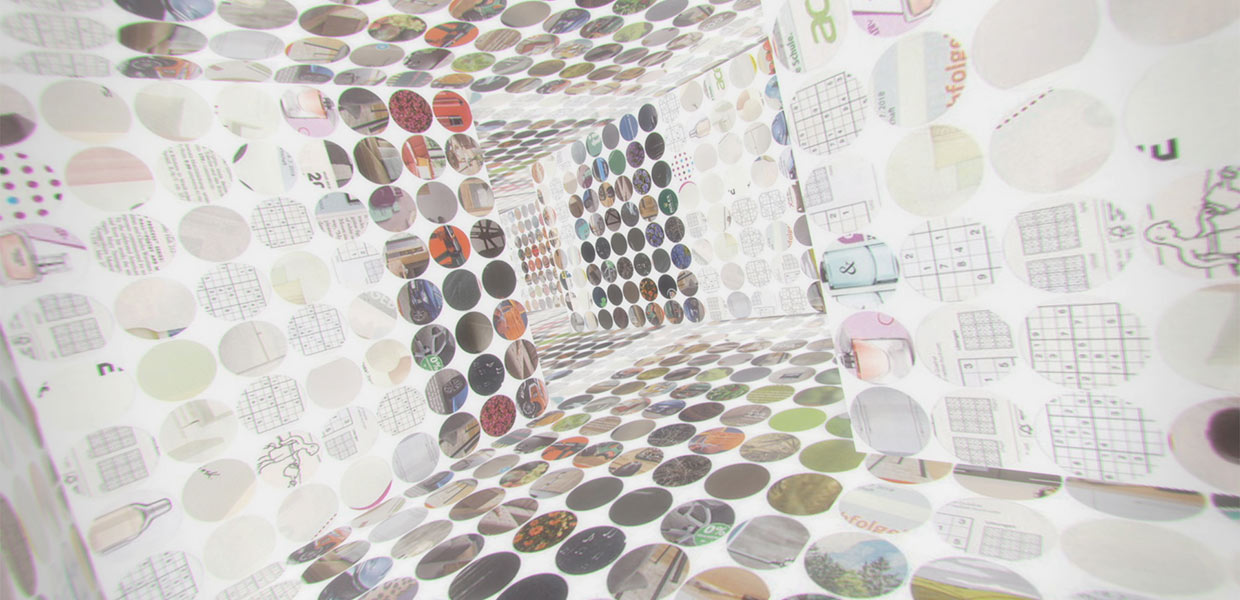 Wie in einem modifizierten Computerspiel längst vergangener Zeiten gleiten wir in Point of View-Perspektive durch ein animiertes Labyrinth. Zunächst immer und immer wieder um die Ecke, die Wände gefliest mit kreisrunden Versatzstücken aus diversen Werbebroschüren: Lifestyleprodukte, Sudoku, hübsch anzusehende Oberflächen aus Pflanzen und Blumen. Sie blinken uns den Weg. Der Flow wird begleitet von einer Voice-over-Collage, die Motivations- und Erweckungsparolen aus Social Media-Kanälen schwingt: "Im Wald brauchen wir keinen Psychologen." "Mit den Steinen, die man dir in den Weg legt, kannst du Schönes bauen." "Wer stehen bleibt, steht im Weg." Wir nehmen Fahrt auf. Es geht nach oben, nach unten, wieder in die Gerade, Achter- und Geisterbahnbewegung im dynamischen Wechsel. Dieser in Bewegung übersetzte vermeintliche Stream of Consciousness wird dirigiert von jenen Algorithmen, die unser Leben unter Vortäuschung behaupteter Selbstbestimmtheit verformen wollen, wann immer wir durch das Internet mit der Welt in Kontakt treten. "Hochleistungs-Entspannung" wird uns abverlangt, "um endlich die innere Mitte zu finden", so die Regisseurin Veronika Schubert. Mustergenerierend und unübersichtlich gleichzeitig wird die Geschwindigkeit dieses Stroms immer schneller und kleinteiliger. Farbstimmungen wechseln, bis sich aus den Artefakten künstlicher Persönlichkeitszuschreibung tatsächlich Menschen zusammensetzen, die die Gänge des Labyrinths pflastern und genauso wenig Substanz vermitteln, wie die körperlosen Stimmen. Weiße Wände, ganz am Ende. (Melanie Letschnig / sixpackfilm)
Zur Eröffnung zeigt Veronika Schubert eine Auswahl ihrer Filme, gefolgt von Performances/Lesungen von Mihret Kebede, Thomas Ballhausen, Augusta und Kalle Aldis Laar im Rahmen einer Kollaboration von ASIFA Austria und Kunst oder Unfall Salon – Zwischenstation Zukunft #10.
www.veronika-schubert.at
www.kunstoderunfall.de
http://www.kunstoderunfall.de/veranstaltungen.html
As in a modified computer game from bygone times, we glide through an animated labyrinth in a point-of-view perspective. We first go around corners again and again, past walls tiled with circular visual elements from various advertising brochures: lifestyle products, Sudoku, attractive surfaces depicting plants and flowers. They blink as we make our way through. This flow is accompanied by a collage of voice-overs offering motivational and inspirational slogans taken from social media channels: "No need for psychologists when you're in a forest!" "Why not use the stones people put in your way to build something really great?" "Keep moving – or move over." We pick up speed. The path goes up, down, back on a straightaway, with roller-coaster and haunted-house movements in dynamic alternation. This would-be stream of consciousness, translated into motion, is directed by those algorithms intended to deform our lives, while they pretend to promote our personal autonomy, whenever we come into contact with the world through the Internet. "High-performance relaxation" is demanded of us "in order to finally find our inner center", according to the director Veronika Schubert. As it generates patterns and confusion simultaneously, the stream through the labyrinth accelerates while its visual components become smaller and smaller. Color moods change until the artifacts from artificially created personality profiles form mosaic-like images of people plastered across the corridors of this maze, conveying just as little substance as the disembodied voices. In the end, only white walls remain. (Melanie Letschnig/sixpackfilm, Translation: John Wojtowicz)
At the opening Veronika Schubert presents a choice of her animations followed by performances/readings by Mihret Kebede, Thomas Ballhausen, Augusta and Kalle Aldis Laar as a collaboration of ASIFA Austria and Kunst oder Unfall Salon – Zwischenstation Zukunft #10.