Austrian Animated Experiments
Screening bei Under the Radar, Top Kino Wien, 7.3.2015, 20:00



Anlässlich ihres dreißigsten Jubiläums präsentiert ASIFA AUSTRIA eine Auswahl an experimentellen österreichischen Animationsfilmen, die nun zum ersten Mal im Zuge des medienwissenschaftlichen Symposiums "Under the Radar" vorgestellt wird. Die Vielseitigkeit der animierten Schätze der letzten Jahre und Jahrzehnte, bei deren Zusammenstellung ein direkter Bezug zur Animationsfilmorganisation ASIFA AUSTRIA ausschlaggebend war, zeigt, dass der österreichische Zugang zur Animation aufregend und fesselnd ist. Quer durch alle Stile und Dramaturgien ist über die politische Satire bis hin zu non-narrativen und abstrakten Arbeiten alles zu finden. Alle Möglichkeiten des künstlerischen Animationsfilms werden ausgeschöpft, re-kombiniert und erweitert: vom Zeichenfilm über Sandanimation und gemalten Filmen sowie deren digitalen Erweiterungen bis hin zu experimenteller Verwendung von Computeranimation.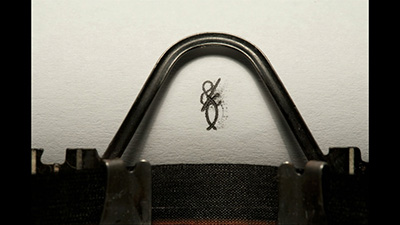 Schreibmaschinerie

 | Caro Estrada | 2011 | 03:56 | AT
Mittels originell kombinierter, typografischer Elemente einer mechanischen Schreibmaschine zeigt Caro Estrada in SCHREIBMASCHINERIE die »bürokratischen« Ebenen der Kriegsführung auf.
Vielfältige typografische Konstellationen, mit einer einfachen mechanischen Schreibmaschine hergestellt, zaubern wundersame Wesen aufs Papier, die sich als kriegerisches Volk entpuppen. Mit originell kombinierten typographischen Elementen zeigt Caro Estrada die bürokratischen Ebenen der Kriegsführung auf. Inspiriert von den analogen Dokumentationstechniken des Ersten Weltkrieges reflektiert der Film die machtvollen Maschinerien die bis zum heutigen Tage im Hintergrund jedes bewaffneten Konfliktes weltweit ablaufen.
Versatile typographic constellations manufactured with an antique type writer conjure wondrous beings on paper, which emerge to be a warlike people. By originally combined typographic elements Caro Estrada highlights the bureaucratic levels of warfare. Inspired by the analog documentation techniques of World War I the movie reflects the powerful machineries, which run behind the scenes of all armed conflicts around the world up to this day.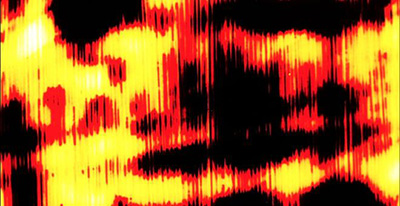 60 Seh-Kunden II

 | Martin Anibas | 1993 | 1:00 | AT
Laufen, Gehen, Fahren. In ständiger Bewegung bleiben, jeweils eine Sekunde lang. 60 mal. Die Drum-Maschine zählt unerbittlich mit. Animation zum Thema formale Zerkleinerung. Running – walking – driving.
Keeping in continuous motion for a second each. 60 times.
The drum-machine is keeping merciless count.
Animation concerning the topic of formal down-break.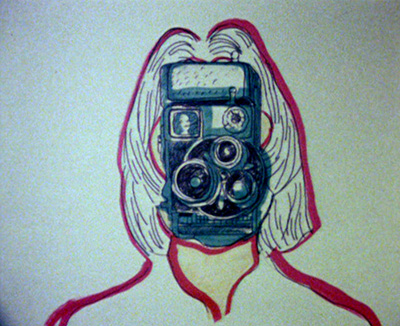 Selfportrait

 | Maria Lassnig | 1971 | 5:00 | AT
Lassnig, oder genauer ihr filzstiftgezeichneter Kopf, singt Englisch mit herzzerreißendem österreichischem Akzent. Über das bisherige Leben, ihre Träume, die ewige Suche nach der besseren, männlichen Hälfte: "To look for the better half". Doch passt mal ein Partner in Form und Farbe, nennt er sie bald schon "weak" and "woman" im gleichen Satz. (Maya McKechneay)
Versöhnlicher Lebensüberblick der Autorin im Zeichentrick. Die Metamorphosen, denen sich die Lassnig in ihren Zeichnungen und Bildern unterwarf, sind natürlich im Film noch viel treffender herauszuarbeiten, weil sie nun nicht nur einzelne Stationen der Verwandlungen, sondern den imaginierten Ablauf zeigen kann. Ihr Selbstportrait verwandelt sich in das Gesicht der Garbo, oder es spaltet sich, und durch den Spalt schiebt sich das Gesicht ihrer Mutter in den Vordergrund. Erinnerungen und Wunschträume nehmen Gestalt an, drängen sich buchstäblich bildhaft auf.
(H. St. "AZ", Wien am 10. 6. 1973)
Lassnig, or more precisely her head, drawn with felt-tip pen, sings in English with a heart-rending Austrian accent about her life, her dreams, her eternal search for a male partner: "To look for the better half." But whenever one which is suitable with regard to color and shape appears, he calls her "weak" and "woman" in the same verse. (Maya McKechneay)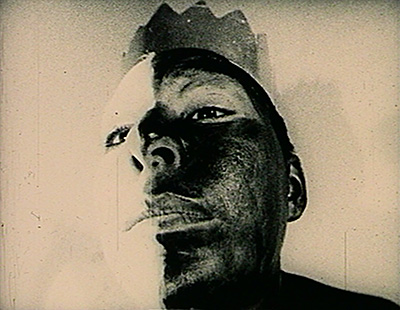 Parasympathica

 | Mara Mattuschka | 1986 | 03:35 | AT
Two poles, depending on perspective, can be regarded as positive or negative. The artist symbolizes passivity versus activity by painting one half of her body black and the other white.
The contrariety of the poles, as well as the unity they also represent, are conveyed by the artist's movements. Animated sequences simulate the movement of body fluids from the parasympathetic and sympathetic nervous systems: the parts of the body which regulate rest and mobilization phases.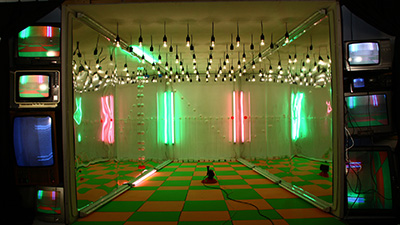 TINAMV 1 

| Adnan Popović | 2012 | 4:00 | AT
Das Musikstück 'Melody' (KILO – Florian Bogner und Markus Urban) wird mit verschiedenen analogen Animationstechniken in bewegte Bilder übersetzt.
The structure of the song "Melody" by the Viennese electronic duo KILO (Florian Bogner and Markus Urban) is translated into pictures. This creates a composition consisting of various classical analogue animation techniques. The individual samples of the music are embodied by objects, paintings and drawings and move according to the different rhythms of music, until they disappear to make room for the next animation track. The moving objects relate to earlier analogies of music into visual forms in the film history and in the artistic approaches to synaesthesia and challenge the well-established expectations of motion picture.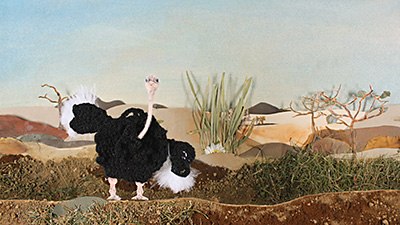 Guitarstring Marked Fingerprints

 | Dust Covered Carpet | 2010 | 3:15 | AT
Animators: Barbara Wilding, Kathi Pfiel, Andrea Jebelean, Marlene Rudy, Volker Buchgraber, Dominik Hartl
Colour Correction and Finishing: Christoph Loidl.
Musicvideo for the austrian band "DUST COVERED CARPET".
Made at the "Universität der bildenden Künste" Vienna.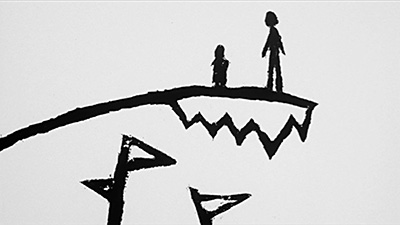 I can imagine it very well 

| Daniel Šuljic | 2003 | 3:40 | AT
Kaffee auf Glas, 1:1,66,
Stimme: Rainer Egger
deutsch, engl. Untertitel
Diese Kinderzeichnungen nachempfundene Schwarzweiß-Animation, ist eine berührende Reflexion über den Verlust eines geliebten Menschen.
A try to express the fear of loosing one´s own child.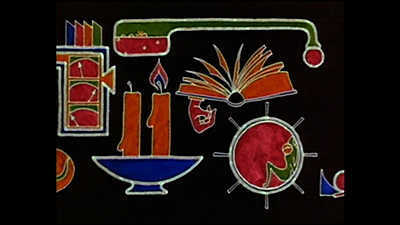 Buchfabrik

 | Hubert Sielecki | 1996 | 2:50 | AT
35 mm, Format 1:1,66, Farbe, Lichtton, Stereo, Dolby A-NR
Gezeichneter Phasentrick, Reinzeichnung: Guido Hoffmann
die vielen absurden maschinerien, die pflanzen,tiere, fabelwesen und gegenstände fantasiereich-skurril und humorvoll-erotisch miteinander verbunden, sollen vor allem lebensfreude und tatendrang darstellen. jeder zyklus in dem film könnte eine minute, einen tag, ein jahr oder ein lichtjahr bedeuten. der film kann auf die unendlichen, scheinbar zufälligen zusammenhänge in unserer welt hinweisen. die "book factory" möchte man gerne immer wieder sehen, um sich an alle details und einzelheiten erinnern zu können, oder um in ihm immer wieder neue überraschungen zu entdecken.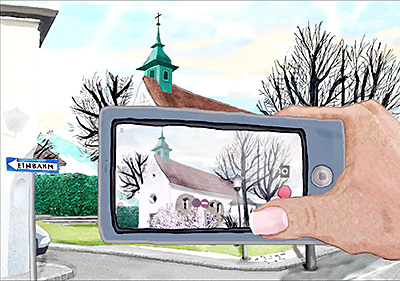 Linz Martinskirche

 | Edith Stauber | 2014 | 3:10 | AT
The attempt to get inside a church is condensed into a kaleidoscopic variety of sensory perceptions.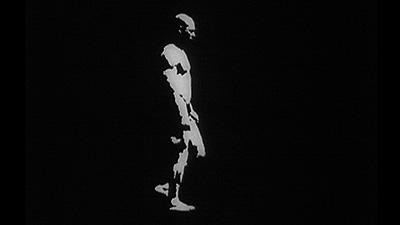 Rhythmus 94

 | Thomas Renoldner | 1994 | 4:00 | AT
Das Ausgangsmaterial zu Rhythmus 94 bildet eine Fotosequenz des kinematografischen Pioniers E. Muybridge, die in eine Bewegung über die Leinwand übersetzt wird. Aus der Abstraktion dieser Fotoanimation entsteht ein einfaches Grundmuster, das zur Vervielfältigung in verschiedenen Geschwindigkeiten und räumlichen Anordnungen zur Verfügung steht. Eingebettet in die Polyrhythmik der Musik entstehen durch Mehrfachbelichtung ständig neue, immer komplexer werdende Formkombinationen, die sich schließlich in fast statischem Bildflimmern auflösen. (T.R.)
The generating material for Rhythm 94 is a sequence of photographs taken by the cinematographic pioneer Eadweard Muybridge. The sequence is transposed into a single movement across the screen. The basic pattern arising out of the abstract nature of the photo animation is available for repetition at various speeds and in various spatial relationships.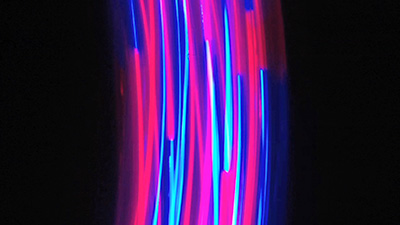 Lightning Fields

 | Nikolaus Jantsch | 2011 | 03:50 | AT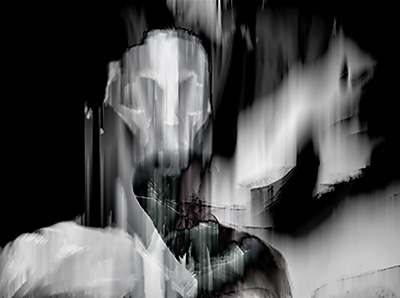 Don't Touch Me When I Start to Feel Safe | Brigitta Boedenauer |
2003 | 4:40 | AT
Wurschtfilm 

| Adele Raczkövi, Julian Vavrovsky | 2005 | 4:00 | AT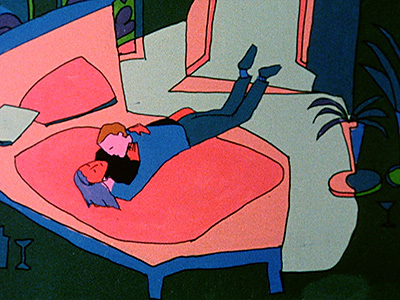 Liebe

 | Sabine Groschup | 1988 | 02:30 | AT
Script, animation: Sabine Groschup
Music: Elisabeth Kraschl, Claudius Jelinik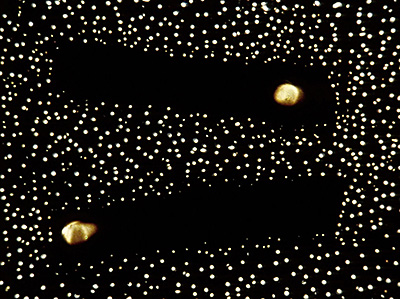 Echo

 | Renate Kordon | 2013 | 04:00 | AT
The soundtrack underscores the inherent rhythm of the animation and to create an emotional arc with the music that would take the viewer on a personal journey as they watched the abstract shapes move through time and space. (J.G.-St.)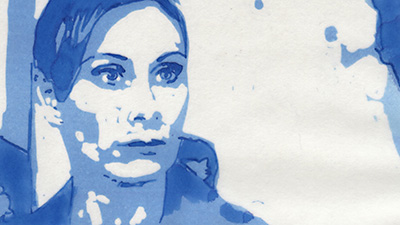 Ink Eraser

 | Veronika Schubert | 2009 | 04:30 | AT
Trickfilm, Format 16:9, FullHD
deutsch, engl.Untertitel
Die starke Reduktion der Kommunikation von Krimi-Ermittler/innen äußert sich in einer surrealen Abfolge von Phrasen und Floskeln.
Tintenkiller abstrahiert die Collage aus den Ritualen und den Banalitäten, die jeden Fernsehkrimi als solchen determinieren und erstellt im direkten Sinn des Wortes einen Blueprint des Genres: statt Blut fließt Tinte durch die Bilder. In langwieriger Detailarbeit hat Schubert 3000 Einzelbilder mit Tinte und Löschstift bearbeitet. Diese Technik beruht auf der Abfolge von Sättigung und Leere, von sichtbarer und unsichtbar gemachter blauer Farbe, die dann als Weiß erscheint. Spannung und Intensität werden so unmittelbar sichtbar in dunkelblauen Kältebildern, die irgendwann einmal das Blut ihrer Zuseher zu Eis erstarren ließen. (Sylvia Szely)
The German television show "Tatort" has greatly influenced the crime genre and has been the epitome of popular German culture for over four decades. Veronika Schubert's rotoscoped found footage animation INK ERASER draws from this rich reservoir.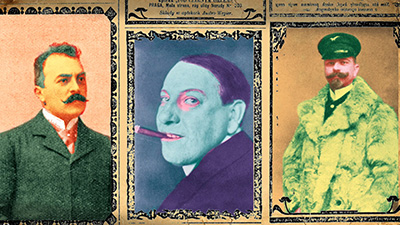 Telefonbuchpolka

 | Benjamin Swiczinsky | 2013 | 05:15 | AT
Technik: Zeichentrick, Papiermodelle, 3D-Compositing
Animation: B. Swiczinsky, J. Ocker, T. Tietze, D. Lundquist
Musik: Georg Kreisler, Ton: Johannes Schiehsl; Schnitt: B. Swiczinsky, Character Design, Konzept: N. Swiczinsky; 3D Modeling: C. Tambou
"Wenn ich Inspiration such, Gesellschaftsliaison such, les' ich das Telefonbuch …" Das Kultlied des österreichisch-amerikanischen Liedermachers und Kabarettisten Georg Kreisler als animiertes Musikvideo.
The cult song by the Austrian-American singer-songwriter and comedian Georg Kreisler as an animated music video.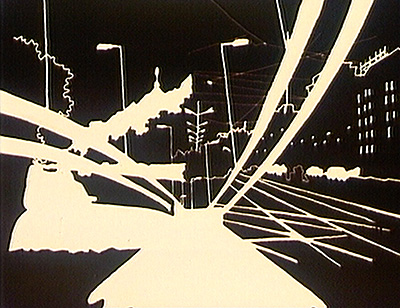 Duocity

 | Ulf Staeger | 1992 | 04:00 | AT
A short impression of two cities' silhouettes.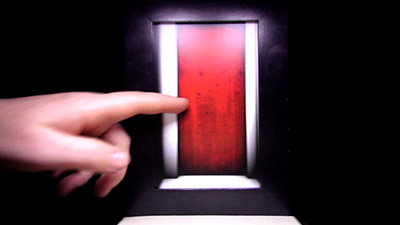 Domino

 | Anna Vasov | 2014 | 01:30 | AT
Domino is a video, which combines the mechanism of a domino fall with the stop motion animation technique and introduces a new animation technique the "Non-stop stop motion". In this technique a video camera continuously follows and films a domino fall. The rate of a normal domino fall is 28 bricks per second. This is very close to the video frame rate (25fps). Every domino brick is a drawn frame of a video, when the first falls the second is revealed when the second falls the third is revealed and so on until all the frames fall and the illusion of the movement in an imaginary space ends. The sound of the fall supports the illusion and is interpreted as steps in the imaginary space. In the first part of "Domino" the audience could watch the process of making the mechanism that produces the video and at the second part the narration of the video.
Winner of the ASIFA AUSTRIA Award/Best Austrian Animation 2014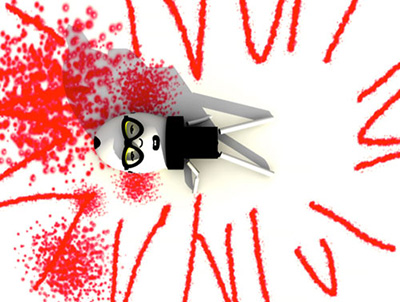 The way to M

 | Zsuzsanna Werner | 2011 | 07:15 | AT
Music: Alexander HenglWinner of the ASIFA AUSTRIA Award/Best Austrian Animation 2014
Projektleiter/Kuratoren/curated by: Franziska Bruckner, Holger Lang, Stefan Stratil